YUAN's Unveils Advanced Intelligent Surveillance Solution at Secutech Vietnam 2023


YUAN High-Tech (Stock code: 5474), a leader in global video capture modules, announces its innovative intelligent surveillance solution to be showcased at Secutech Vietnam from July 19th to 21st, 2023. The solution, which integrates advanced cloud technologies and AI edge computing modules with a diverse SDK, will be exhibited at Booth A242 to accelerate development and reduce costs.
The distinct features of YUAN High-Tech's SmartVMS intelligent surveillance solution include :

◆ Diverse SDK modules to speed up development and reduce costs.
◆ Support for various computing platforms.
◆ Flexible, customizable AI enhancements.
◆ Compatibility with a wide range of imaging devices.
◆ Decentralized management to expedite scheduling.
◆ Multichannel automatic reporting.
◆ Support for various browsers for viewing.
◆ Data visualization modules.
◆ Support for both public and private cloud deployments.
◆ Real-time backup and secure storage.

The high-performance 4K60 AV1 5G streaming encoder/decoder VPP6N0 NX, developed based on NVIDIA Jetson Orin NX, is specifically designed to address the growing trend of unmanned vehicle imaging in AI+5G applications. With its highly efficient edge computing capability of 100tops, the VPP6N0 NX enables real-time multi-path 4K60 video analysis and image recognition such as object detection, identification, and tracking. This makes it suitable for visually oriented unmanned vehicle applications such as autonomous vehicles and drones.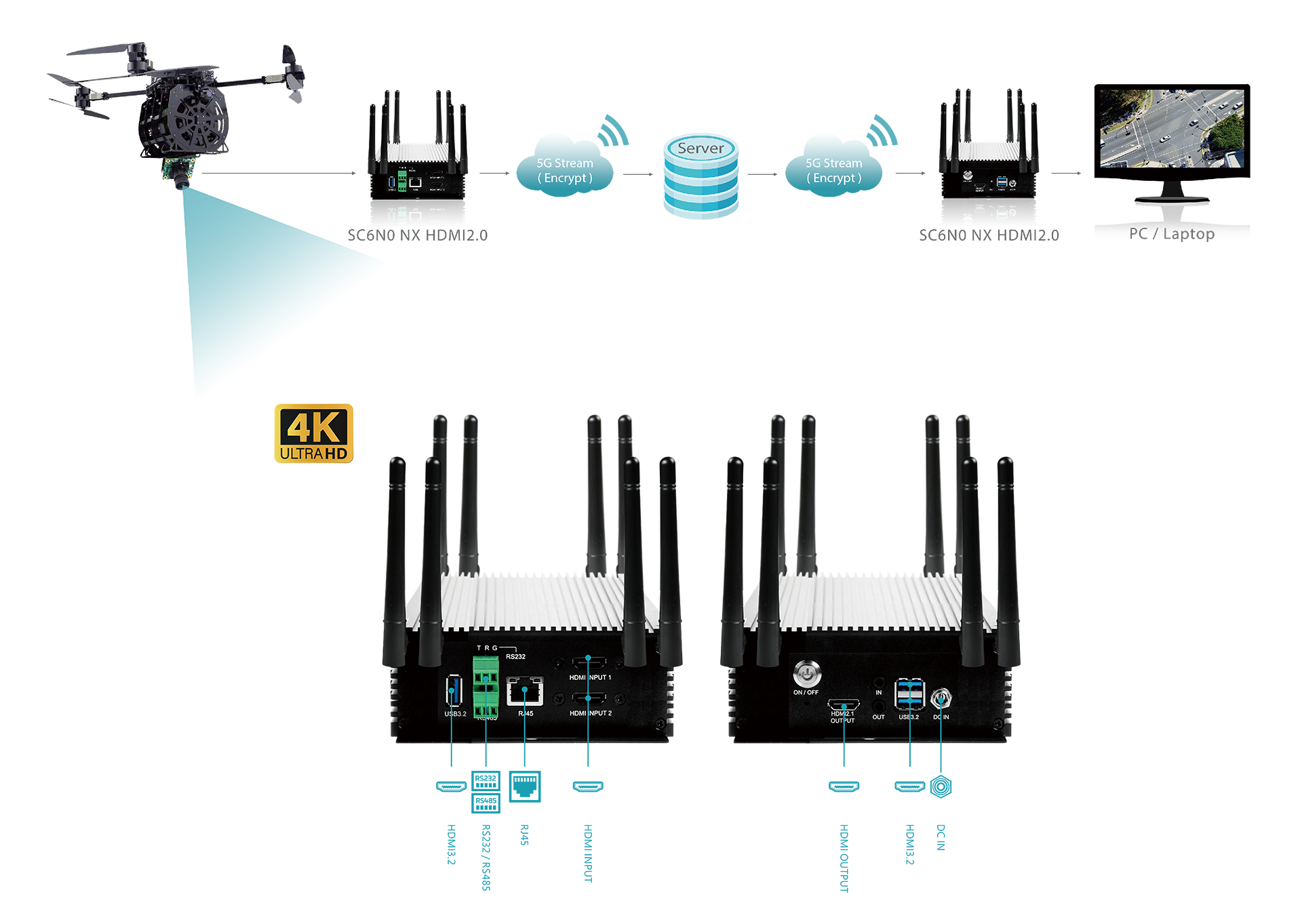 YUAN High-Tech's latest generation SC750N1 m.2 capture card can achieve 4K60 444 10-bit image capture, providing greater color depth and more delicate and rich image coloration. AV1 compression encoding technology is used for streaming transmission, reducing the bandwidth requirement by 20%, lowering data transmission costs, providing smoother video playback, faster response time, and significantly improving real-time performance and operational accuracy in unmanned vehicle applications.
Through in-depth technical research and development, YUAN High-Tech offers an all-in-one solution from hardware design to software application. This solution is compatible with various imaging devices, supports multiple computing platforms, offers decentralized management for faster scheduling, multi-channel automatic reporting, data visualization modules, supports both public and private cloud deployments, and provides real-time data backup and secure storage, thus assisting clients in achieving information security.
YUAN High-Tech is committed to providing the most cutting-edge, competitive products and services, and we look forward to showcasing at Booth A242 at Secutech Vietnam 2023. We welcome global partners and customers to visit our booth.