YUAN Showcases Comprehensive Audiovisual Solutions at InfoComm USA 2023

YUAN High-Tech ( stock code: 5474 ), a global leader in video capture modules, announced today its participation in InfoComm USA 2023. The company will showcase its latest cutting-edge solutions, including its 4K60 ultra-high-definition 5G streaming solution, AV over IP 10G SDVoE Turnkey-Solution, NVIDIA AGX Orin voice recognition intelligent recording system, and a versatile smart video processing platform applicable to various industries.
It is particularly an honor for YUAN High-Tech to announce the expansion of its comprehensive product line for its 8K60 HDMI 2.1 solution at InfoComm USA 2023.
Leading the world in the smallest size 8K60 video capture card

The 8K60 HDMI 2.1 solution represents a monumental advancement specifically designed to meet the industry's demand for ultra-high-definition video. Leveraging the high bandwidth capability of HDMI 2.1, the solution enables the transmission of 8K60 ultra-high-resolution video, bringing users unprecedented, refined visual effects, and super-clear image quality.
The company's products come with an m.2 interface design, making them compact enough to be easily installed and connected in environments where space is limited. This is an ideal solution for various applications demanding compact design such as embedded systems, mobile devices, and high-end PCs. Furthermore, the high bandwidth and low latency characteristics of the m.2 interface make it particularly suited to handle high-speed, high-capacity video data.
In the field of 8K E-sports live streaming, YUAN High-Tech will display the world's first 8K60 video capture card SC750N1 HDMI2.1 and the 8K60 UVC external video capture box UB700 HID HDMI2.1. UB700 offers KVM functionality and a high-speed USB 3.2 interface for faster data transmission speeds, ensuring a smooth and high-quality video performance without any delay or stutter during the transmission of 8K60 video.
Zero-latency AV over IP 10G SDVoE turnkey solution
10G SDVoE solution presented features not only transmitters and receivers but also a combined transceiver. This all-in-one solution allows users to transmit and receive signals on one device, significantly simplifying system configuration and management. With its advanced signal processing capability and robust network features, it can process and transmit real-time 4K60 4:4:4 video signals, ensuring authentic reproduction and smooth playback of images.
Unmanned vehicle 4K60 444 5G streaming solution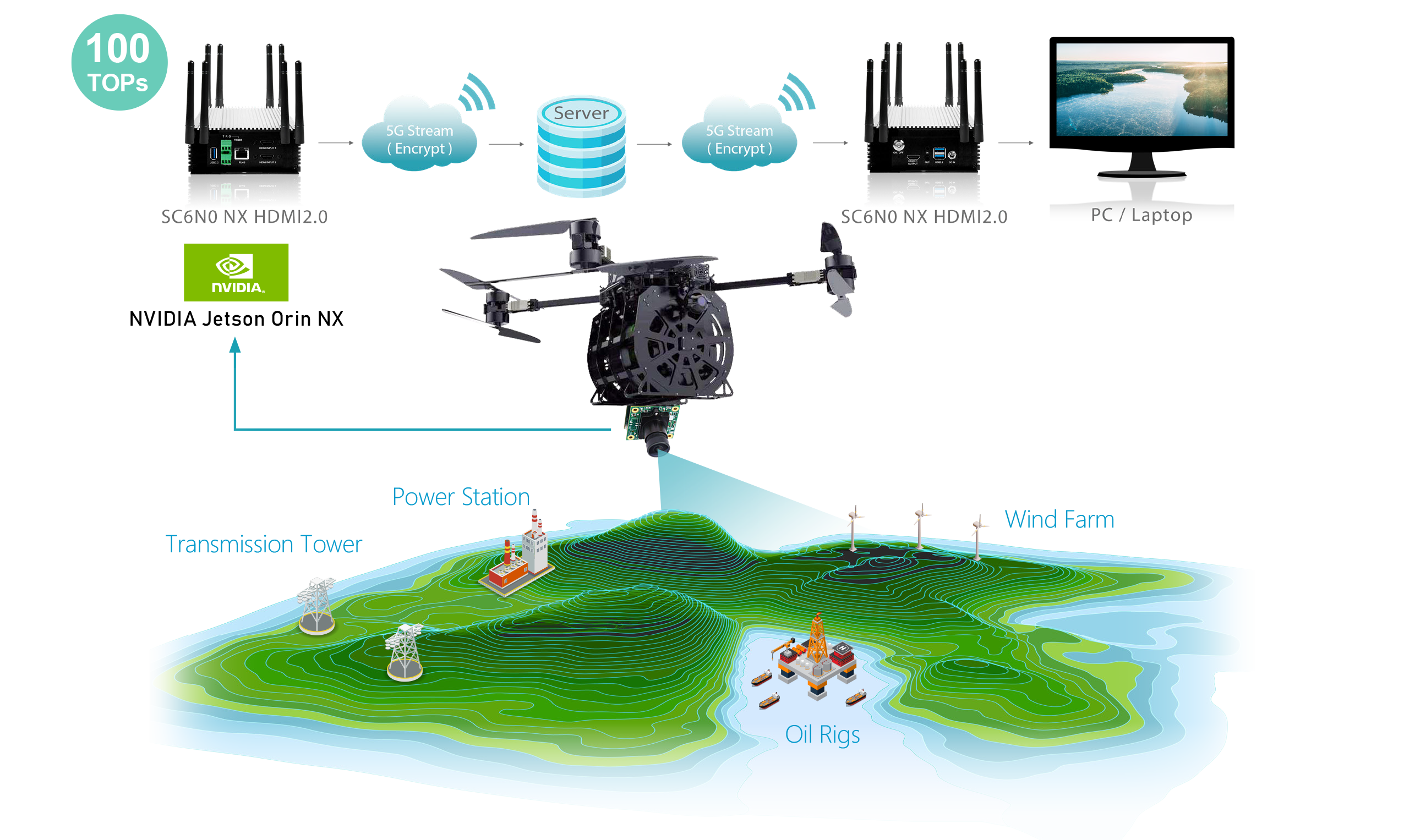 The 4K60 444 streaming media encoder uses AV1 compression coding technology, which reduces the demand for network bandwidth and lowers the cost of data transmission. This provides significant advantages for unmanned vehicle applications that require real-time transmission of high-quality video. Moreover, the efficient AV1 encoding allows for faster encoding and decoding speeds, resulting in smoother video playback and more timely responses, significantly improving the real-time performance and operation accuracy of unmanned driving applications.
High-efficient intelligent video processing platform
The intelligent video processing platform can be used in enterprises, transportation, and smart education. YUAN High-Tech's intelligent recording system integrates NVIDIA Riva SDK's voice and image recognition, simplifying the workflow and providing exceptional performance and reliable effects, whether it's recording high-quality teaching content or in real-time online teaching environments. Additionally, YUAN offers a wide range of intelligent video processing platforms, supporting various core processors, including Rockchip, Mediatek, Intel, and NVIDIA. The AI computing capability of this platform ranges from 1 TOPS to 200 TOPS, accommodating different video requirements for single/multiple channels, 4K, and HD, allowing customers to choose the core processor that best suits their needs. This flexibility ensures an optimal balance in computational performance, cost, and application scenarios.
YUAN High-Tech is looking forward to showcasing innovative solutions at booth Zone A, 2325 at InfoComm USA in 2023. We welcome partners and customers from around the world to visit our booth and learn more about our offerings.