YUAN Leads the Future of Video Technology : Showcasing Innovative Products at Computex 2023

YUAN High-Tech ( stock code: 5474 ), a global leader in video capture modules, will participate in the 2023 Taipei International Computer Exhibition ( Computex 2023 #L0802 ) from May 29 to June 1[A1]. We will showcase its latest 2023 video products, including 3D AI-powered computing system, 8K live broadcast, 4K ultra-low latency video streaming encoding technology, and intelligent video solutions for the education, medical, and security industry.

Leading future innovation - 3D AI-powered computing system
Industrial and medical environments require higher levels of performance, durability, security, safety, and support. NVIDIA IGX Orin™ is an industrial-grade platform, that combines enterprise-level hardware, software, and support. As a single holistic platform, IGX allows companies to focus on application development and realize the benefits of AI faster.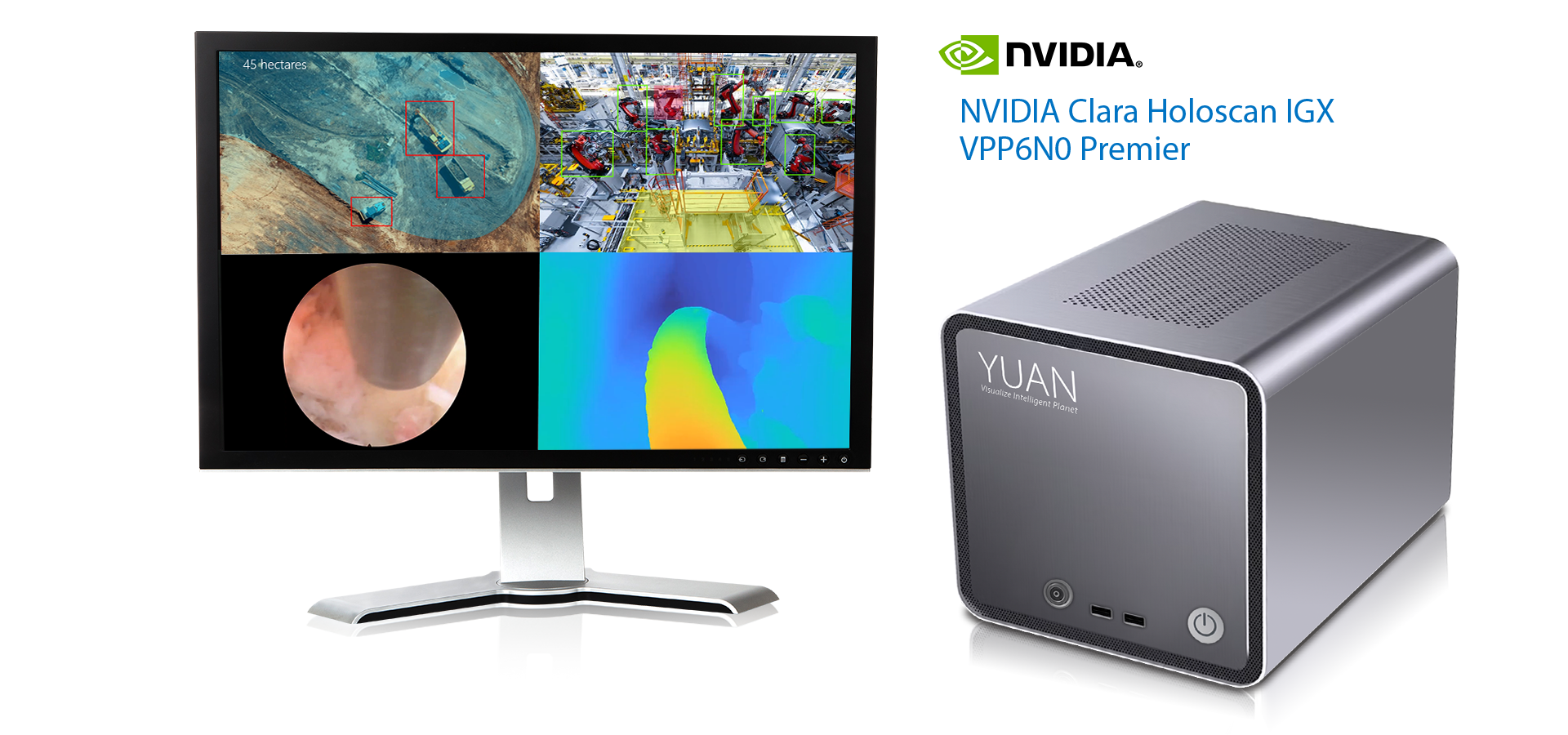 NVIDIA IGX Orin™ platform, providing ultra-fast performance within the required size and power range for edge computing for use in more ruggedized environments. YUAN High-Tech is proud to introduce the new IGX system-VPP6N0 Premier, which can be used for a variety of applications in both medical and industrial. The system can demonstrate 4K60 3D modeling and real-time AI recognition video technology with the performance, durability, security, and safety required for AI at the edge. The VPP6N0 Premier is expected to be shipped in Q4 of 2023.

Breaking through visual boundaries - 8K60/4K120 live production


In the 8K live broadcast field, YUAN High-Tech shows the world's first 8K60 video capture card, the SC750N1 HDMI2.1, NVIDIA GeForce RTX 3090 and 8K60 UVC external video capture box - UB700 HID HDMI2.1. The UB700 offers KVM functionality and a high-speed USB 3.2 interface for faster data transfer speeds, ensuring that there will be no lag or stutter during the 8K60 video transmission process and that users can achieve smooth, high-quality video performance during game recording.

YUAN's 4-channel 4K60 video switcher can directly splice multiple videos into PIP/PBP/Quad, etc. In addition to directly outputting PGM or multiple spliced videos, it can also directly replace the background through the built-in video switcher green screen function, allowing users to directly use the UVC interface to transmit to the computer for a live broadcast.
At Computex, YUAN also showcases the advanced AV1 video encoding technology designed for the Internet. Built-in the VPP6N0N1 NX, based on the NVIDIA Orin NX platform, can transmit signal by 5G. Compared with traditional H.264 and H.265 encoding, AV1 can provide higher compression efficiency, reduce video data volume, bring a smoother visual experience for wireless network environments, and optimize the remote collaboration and real-time monitoring capabilities of various industries.


10G SDVoE AV over IP Operating Room Solution

The 10G SDVoE integrated operating room solution emphasizes the advantages of SDVoE 4K60 444 zero-latency non-compression and flexible configuration. Combined with various medical devices through built-in multiple display modes, it can provide doctors with a more accurate and intuitive diagnostic basis. It is the best choice for high-definition, low-latency video remote transmission. YUAN's SDVoE series products are compatible with both fiber optic and Ethernet interfaces. The complete SDVoE product series includes transmitters, receivers, and transceivers. Dip switches can be easily switched for use, making it convenient for users to configure each device as a transmitter or receiver. The 4K60 4:4:4 zero-latency uncompressed video stream can provide a smooth, high-quality video experience in various application scenarios in the medical industry.


Streaming the New Generation, AV over IP Achieves Ultra-Low Latency and High Compression Efficiency

With the resolution of video becoming higher and higher, the importance of AV over IP low-latency transmission network technology is increasingly recognized. Our SC6E0 series integrates high-efficient video over IP technologies such as NDI and Dante AV-ULTRA, which can achieve real-time, low-latency transmission of 4K60 video and audio in a 1G environment. This technology brings real-time and higher quality for users in any scenario like remote education, remote meetings, and e-sports live streaming.

For users with 4K multi-stream encoding needs, they can choose the VPP6T0 multi-channel encoder/decoder. VPP6T0 supports 4K60 four-in, four-out video encoding, decoding, and streaming functions, which can be applied in fields such as video conferencing, film production, advertising production, live broadcasting, and more.

Extract Accurate Insights from Massive Video Data – Intelligent Video Processing Platform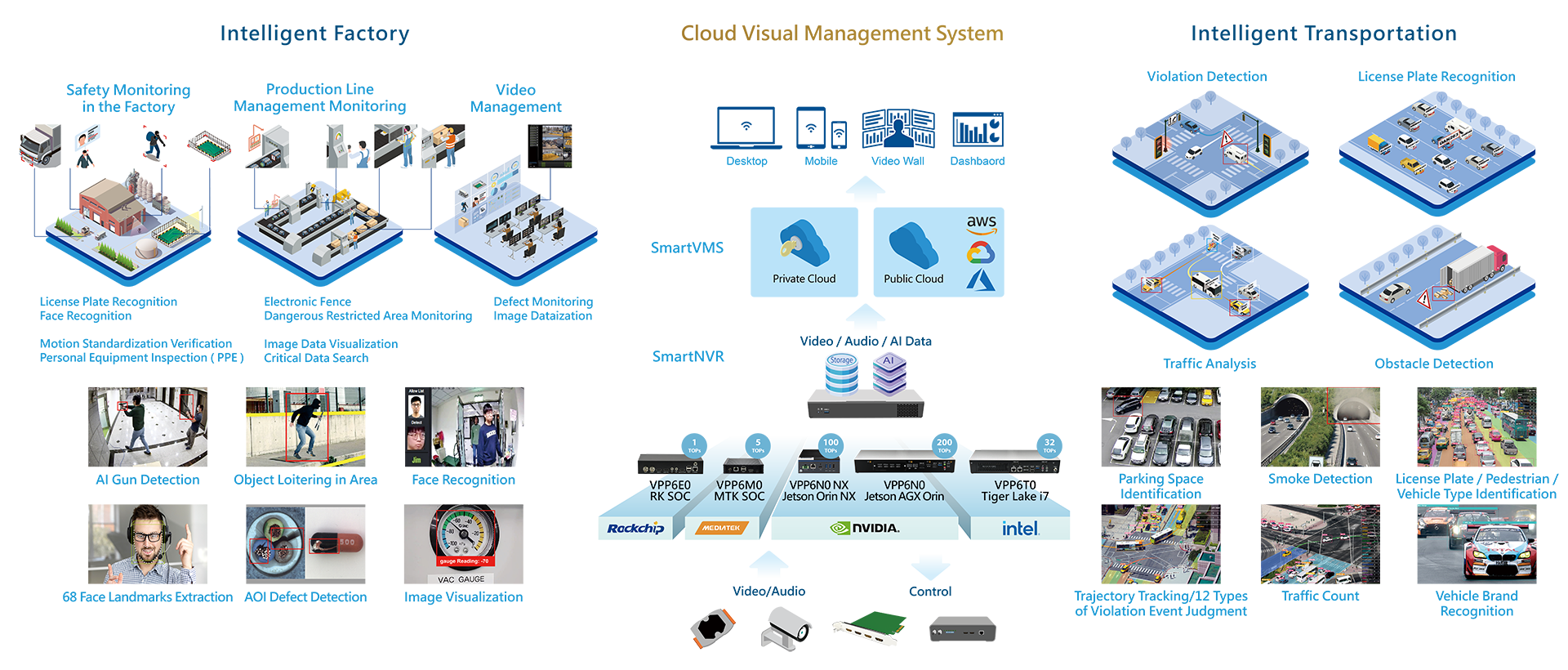 Our one-stop intelligent visual security solution can efficiently provide various functions such as video capture, recording, streaming, and analysis. This helps our partners rapidly develop a wide range of scene-based smart video solutions. SmartNVR, the AI computation core component, intelligently analyzes video data at the edge, without the need to transmit the data to the cloud or data center for analysis. SmartNVR can preview, record, and analyze at the same time, NVIDIA AGX Orin has 275 Tops which offer 16-channel 1080P video analysis simultaneously. and is built with a variety of common security monitoring intelligent analysis algorithms, including object recognition, identity management, dynamic detection, and behavior analysis.

Intelligent Education Recording Solution - Stream Catcher Pro

Stream Catcher Pro is an AI intelligent education recording system that offers an advanced AI speech recognition system based on NVIDIA Jeston AGX Orin with NVIDIA Riva SDK to do automatic speech translation. Stream Catcher Pro has various deep learning models and is compatible with different frameworks to help quickly complete the AI workflow of videos and audio. The solution can integrate multiple devices in the classroom, achieving 1080p60 real-time video capture, AI-powered intelligent recognition, and video streaming. In addition to AI speech recognition, we showcase real-time handwritten text extraction technology and automatic tracking of speakers' movements, expressions, and trails.
"We are delighted to showcase our cutting-edge technologies and products at Computex 2023," said HP Lin, General Manager of YUAN High-Tech. "YUAN High-Tech has always been dedicated to the research and development of video technology. Through our products and technologies, we hope to provide a better video experience for our users. We look forward to meeting with global partners and customers at Computex to discuss the future of video technology."

Welcome to visit the YUAN High-Tech booth number #L0802 on the 4th floor of Hall 1 at the Nangang Exhibition Center.