YUAN Leads Industry Trends, Presenting the Latest Technological Achievements at the 2023 Broadcasting Exhibition

YUAN High-Tech ( stock code : 5474 ), a leading B2B professional audio and video solutions provider, will participate in the2023 NAB Show in the United States and CCBN Exhibition in Beijing. YUAN High-Tech will showcase its latest audio and video solutions at these events, including the innovative 8K60/4K120 video capture card, 4-channel 4K60 video switcher, and 4K ultra-high-definition streaming solution.

The competitive SC750N1 HDMI2.1 card, an 8K60/4K120 video capture card, supports high-end video signal input, extremely low transmission latency, 4:4:4 chroma sampling, 10-bit color depth, and HDR10 high dynamic range technology. This delivers rich and detailed image quality, achieving high-quality video playback and capture.

In addition, YUAN High-Tech has introduced an efficient and professional 4-channel 4K60 video switcher, supporting four HDMI 2.0 input sources, seamless switching between multiple video outputs, and featuring 10-bit color depth and HDR10 image quality. With various PGM modes, it can achieve PIP, PBP, single-view, quad-view, and chromakeying effects, increasing production efficiency.
SC6E0N1 Series Integrates Dante AV-H and NDI Protocols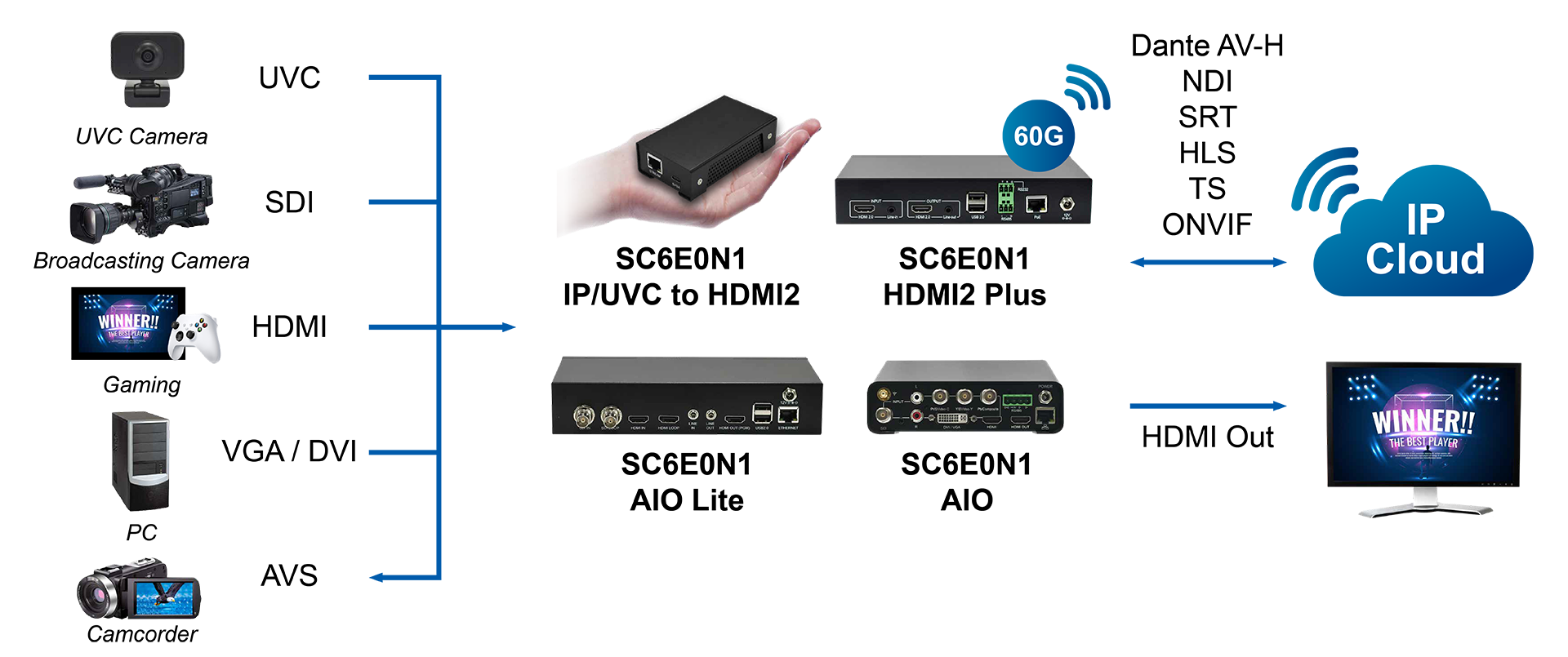 For the highly anticipated 4K ultra-high-definition streaming solution, YUAN High-Tech offers a series of 4K60 422 10-bit H.26X high-efficiency encoding solutions. This easily converts video signals into H.265/H.264 compression formats for IP transmission. The SC6E0N1 series integrates Dante AV-H and NDI protocols, making audio and video systems more flexible and easy to manage, suitable for remote education, live streaming, video conferencing, and other applications.
At the landmark broadcasting exhibition, YUAN High-Tech also displays various AI edge computing platforms, compatible with various on-site audio and video signals. These platforms combine automatic composition, motion recognition, automatic scene selection, background removal and blurring, and handwriting extraction to meet the real-time and efficient needs of the broadcasting and education industries.

YUAN High-Tech invites you to visit our booth, interact with our professional team, and discuss how these innovative products can bring more efficient solutions to your business.

Let's join hands to create the future, and we look forward to meeting you at the exhibition