YUAN Showcases Latest Embedded Video Solutions at Embedded World 2023

YUAN High-Tech ( Stock Code: 5474 ), a leading global manufacturer of embedded video capture modules, will participate in the Embedded World exhibition held at the Nuremberg Exhibition Center in Germany from March 14th to 16th, 2023. YUAN High-Tech will showcase its latest embedded video solutions optimized for professional video applications, military and security, and artificial intelligence at booth number 2-451 in Hall 2.
The products and solutions showcased include :
Embedded Video Capture Cards for Embedded Systems
The embedded video capture card series provides a variety of interfaces and video input formats, such as m.2, MiniPCIe, VPX, and PCIE104, as well as MPIP, GMSL2, TVI, SDI, HDMI, and other input formats. The VPX supports high-speed data transfer and can achieve high-definition and high-quality video capture and output. It also has features such as high-temperature resistance, shock resistance, and electromagnetic interference resistance, making it ideal for military, aerospace, and other extreme environments.
Professional 8K/4K Video Capture Cards
8K/4K offers high-definition and high-quality video and audio output, and all products support DRM and NVIDIA GPUDirect technology. All video capture cards are built-in with DRM and NVIDIA GPUDirect technology, ensuring no delay in video transmission. The 8K supports interfaces such as HDMI2.1 and Quad 12G-SDI. The HDR technology supported by HDMI2.1 can present higher contrast and richer colors for more realistic images, while VRR technology can achieve smoother image motion. Our 4K video capture card supports 444 10-bit high-quality video, presenting richer image layers.
Efficient AI Video Processing Platform

Equipped with Intel's 11th generation video processor, it provides efficient video processing capabilities and supports 4K60 high-definition, high-rate 4-in-4-out video encoding and streaming functions, which are suitable for use in video conferences, film and advertisement production, live broadcasts, and other fields.
AV over IP Solutions
The AV over IP zone showcases video and audio transmission solutions based on various embedded platforms, supporting multiple transmission protocols and encoders such as 100M, 1G, 10G, and 25G. This exhibition showcases application scenarios such as military command centers and situation rooms. YUAN High-Tech's SDVoE 10G solution can achieve efficient, low-latency, and high-quality video and audio transmission and maintain high confidentiality and security, making it an ideal choice for monitoring images in military situations.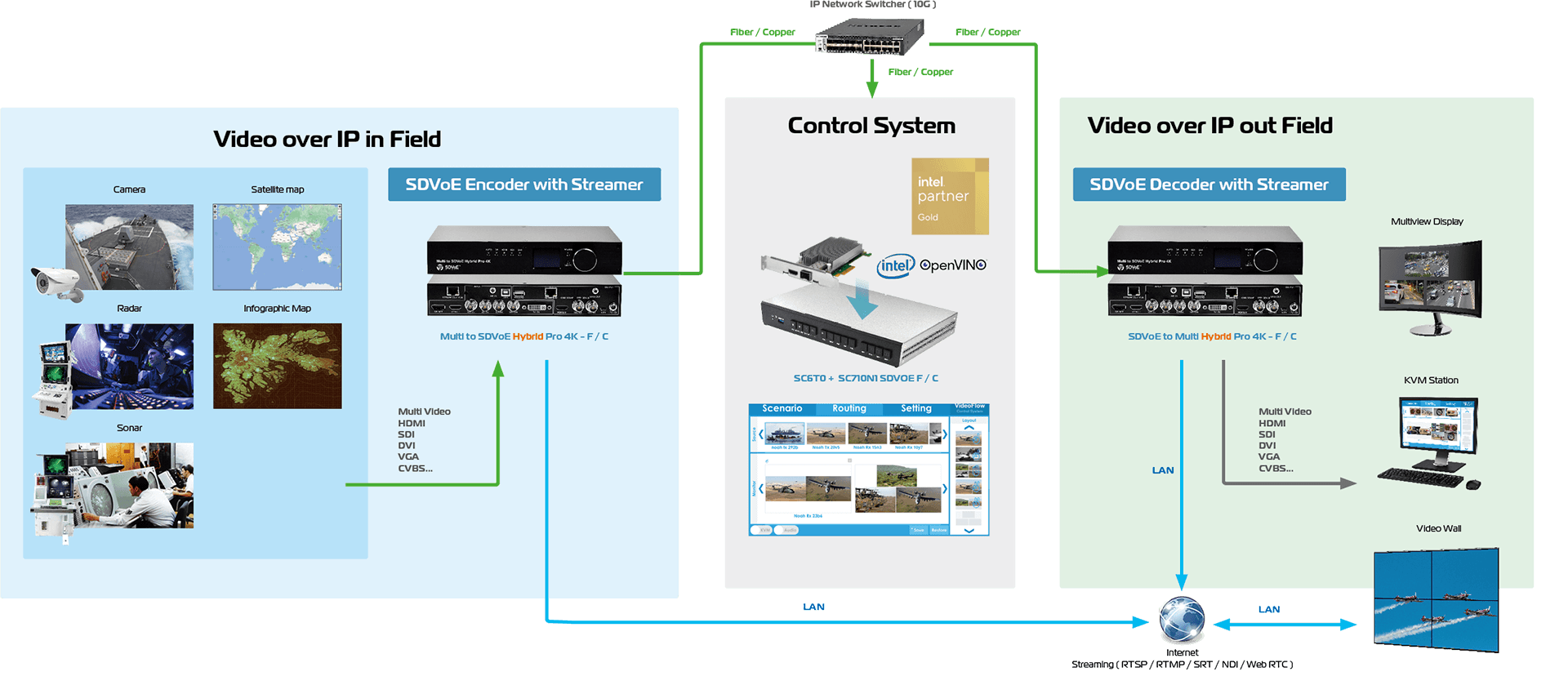 AI Intelligent Video Management Solutions
The AI intelligent video management solution can achieve multi-channel 1080P video preview, recording, and streaming while simultaneously applying multiple intelligent analysis algorithms. We support different scales of core computing processors, including Rockchip, Mediatek, Intel, NVIDIA, etc., providing 1 TOP, 5 TOPS, 32 TOPS, 100TOPS to 200 TOPS levels of intelligent computing power, allowing customers to choose the core processor that best suits their needs and achieve the best balance in terms of computing performance, cost, and application scenarios.

YUAN High-Tech has 30 years of experience and technology in the embedded video field. This exhibition can be applied to a variety of embedded application scenarios.

We look forward to meeting you at booth 2-451 in Hall 2 of Embedded World 2023 for further discussion on cooperation opportunities and technology exchange.